EIN Presswire | Newsmatics
Hollywood-Worthy Story "Mansion of Souls" Entices Readers and Movie-Makers
News provided by
EIN Presswire
Nov 20, 2023, 1:15 PM ET
Jacqui Sawyer's "Mansion of Souls" is now available on Amazon and other leading digital bookstores worldwide.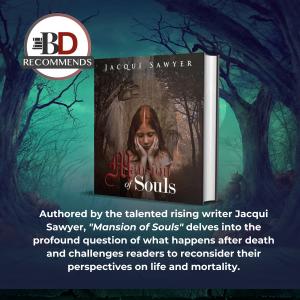 Books Discovery highly recommends 'Mansion of Souls' by rising author Jacqui Sawyer
Author Jacqui Sawyer brings new perspectives to life and death through her latest masterpiece
RICHMOND, CALIFORNIA, USA, November 20, 2023 /
EINPresswire.com
/ -- The power of books to inspire blockbuster movies is undeniable, with 70% of the top 20 grossing films worldwide being adaptations from literature. In an era dominated by streaming platforms like Netflix, the demand for fresh and compelling stories has never been more apparent. "
Mansion of Souls
," a captivating book that brings powerful storytelling to life, has piqued the curiosity of both readers and movie-makers alike, and is positioned to be adapted into film in the future.
Authored by the talented and rising writer
Jacqui Sawyer
, "Mansion of Souls" delves into the profound question of what happens after death and challenges readers to reconsider their perspectives on life and mortality. The book's unique storylines and emotionally charged narratives have struck a chord with audiences, leaving an indelible impact long after the final page.
The characters in "Mansion of Souls" are confronted with the universal desire to reconnect with lost loved ones and uncover the mysteries of the afterlife. Through the eyes of Paul, Sue, Jessica, and Alex, a family who embarks on a journey of self-discovery, readers are transported to a world where life transcends the earthly realm. The encounter between Paul and his late father, who perished during the Vietnam War, sets in motion a profound realization that life continues beyond the confines of our physical existence.
As readers immerse themselves in the pages of "Mansion of Souls," they are compelled to explore the depths of their own emotions, contemplate the meaning of existence, and embrace the possibility of life after death. Jacqui Sawyer's masterful storytelling weaves a tapestry of intrigue, heartache, and hope, captivating readers from beginning to end.
The allure of "Mansion of Souls" has not gone unnoticed in the film industry. The book's cinematic quality, rich character development, and thought-provoking themes have garnered significant interest from movie-makers seeking the next Hollywood-worthy adaptation. With the global success of book-to-film adaptations in recent years, the potential to bring this mesmerizing story to the silver screen is undeniable.
Jacqui Sawyer is a rising author known for her ability to craft emotionally charged narratives that captivate and inspire. With "Mansion of Souls," she pushes the boundaries of storytelling, challenging readers to reconsider their perspectives on life, death, and the power of love. Jacqui Sawyer's unique voice and compelling storytelling make her a force to be reckoned with in the literary world.
For readers hungry for captivating narratives and movie-makers in search of compelling stories, "Mansion of Souls" offers an irresistible blend of thought-provoking storytelling and cinematic potential. Join the journey of self-discovery and transcendence today by buying the book through Amazon, Barnes and Noble Online, and other leading digital channels.
ABOUT BOOKS DISCOVERY:
Books Discovery is an emerging publishing and marketing agency dedicated to discovering and promoting emerging talents in the literary industry. With a team of talented professionals, we provide collaborative and tailored-fit publicity strategies to boost authors' careers and help their masterpieces reach new heights. Conveniently located in the San Francisco Bay area, we are committed to providing authors with the right tools and resources to succeed in the industry.
Joel Aba
Books Discovery Inc.
+1 510-573-8151
email us here
NOTE: This content is not written by or endorsed by "WTRF", its advertisers, or Nexstar Media Inc.
For inquiries or corrections to Press Releases, please reach out to EIN Presswire.