GlobeNewswire
HAGENS BERMAN, NATIONAL TRIAL ATTORNEYS, Encourages FMC Corporation (FMC) Investors with Substantial Losses to Contact Firm's Attorneys, Fraudulent Period Expanded in Securities Fraud Class Action
News provided by
Hagens Berman Sobol Shapiro LLP
Nov 20, 2023, 11:02 AM ET
SAN FRANCISCO, Nov. 20, 2023 (GLOBE NEWSWIRE) -- Hagens Berman urges FMC Corporation (NYSE: FMC) investors who suffered substantial losses to submit your losses now.

Expanded Class Period: Nov. 1, 2022 – Oct. 30, 2023
Lead Plaintiff Deadline: Jan. 8, 2024
Visit: www.hbsslaw.com/investor-fraud/FMC
Contact An Attorney Now: FMC@hbsslaw.com
         844-916-0895
FMC Corporation (FMC) Securities Fraud Class Action:
The litigation focuses on the propriety of FMC's sales and inventory management practices, and on the sustainability of growth and financial results flowing from its patented diamide insect control products.
The complaint alleges that FMC made false and misleading statements and failed to disclose that: (1) the diminishment of patent protection for FMC's flagship products following legal defeats in India, China, and Brazil key markets opened the door to increased competition from generics; and (2) FMC repeatedly misled investors about the status of such proceedings and falsely claimed that it did not and would not face generic competition in key markets until 2026 at the earliest.
Investors began to learn the truth on July 10, 2023, when FMC slashed its Q2 2023 revenue outlook by about 30%, reduced its FY 2023 revenue outlook by over 14%, and blamed the reduced guidance on reductions in channel inventory that adversely impacted the company's sales volumes in the quarter.
Then, on Sept. 7, 2023, Blue Orca published a report alleging that "FMC has concealed from investors that it has suffered a recent string of defeats around the globe that have enabled competitors to now launch competing generics at prices up to 80% below the price of FMC's flagship insecticide product[]" and "[c]ontrary to the Company's claims, FMC's process patents do not protect its flagship product from generic competition."
On Oct. 23, 2023, FMC announced it was again cutting its Q3 2023 outlook and issued disappointing Q4 2023 and FY 2024 revenue guidance, blaming substantially lower sales volume in Latin America.
Finally, on Oct. 30, 2023, FMC announced disappointing Q3 2023 results, including a 29% decline in revenue for the quarter, and blamed lower customer demand in Brazil and India.
These events drove the price of FMC shares sharply lower and was accompanied by several analyst downgrades.
"We're focused on investors' losses and are investigating whether FMC may have intentionally misled investors about the strength of certain patent protections," said Reed Kathrein, the Hagens Berman partner leading the investigation.
If you invested in FMC and have substantial losses, or have knowledge that may assist the firm's investigation, submit your losses now »
If you'd like more information and answers to frequently asked questions about the FMC case and our investigation, read more »
Whistleblowers: Persons with non-public information regarding FMC Corporation should consider their options to help in the investigation or take advantage of the SEC Whistleblower program. Under the new program, whistleblowers who provide original information may receive rewards totaling up to 30 percent of any successful recovery made by the SEC. For more information, call Reed Kathrein at 844-916-0895 or email FMC@hbsslaw.com.
About Hagens Berman
Hagens Berman is a global plaintiffs' rights complex litigation law firm focusing on corporate accountability through class-action law. The firm is home to a robust securities litigation practice and represents investors as well as whistleblowers, workers, consumers and others in cases achieving real results for those harmed by corporate negligence and fraud. More about the firm and its successes can be found at hbsslaw.com. Follow the firm for updates and news at @ClassActionLaw. 
Attorney advertising.
Past results do not guarantee future outcomes.
Services may be performed by attorneys in any of our offices. 
Contact:
Reed Kathrein, 844-916-0895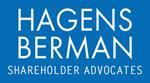 NOTE: This content is not written by or endorsed by "WTRF", its advertisers, or Nexstar Media Inc.
For inquiries or corrections to Press Releases, please reach out to GlobeNewswire.