Best of the Best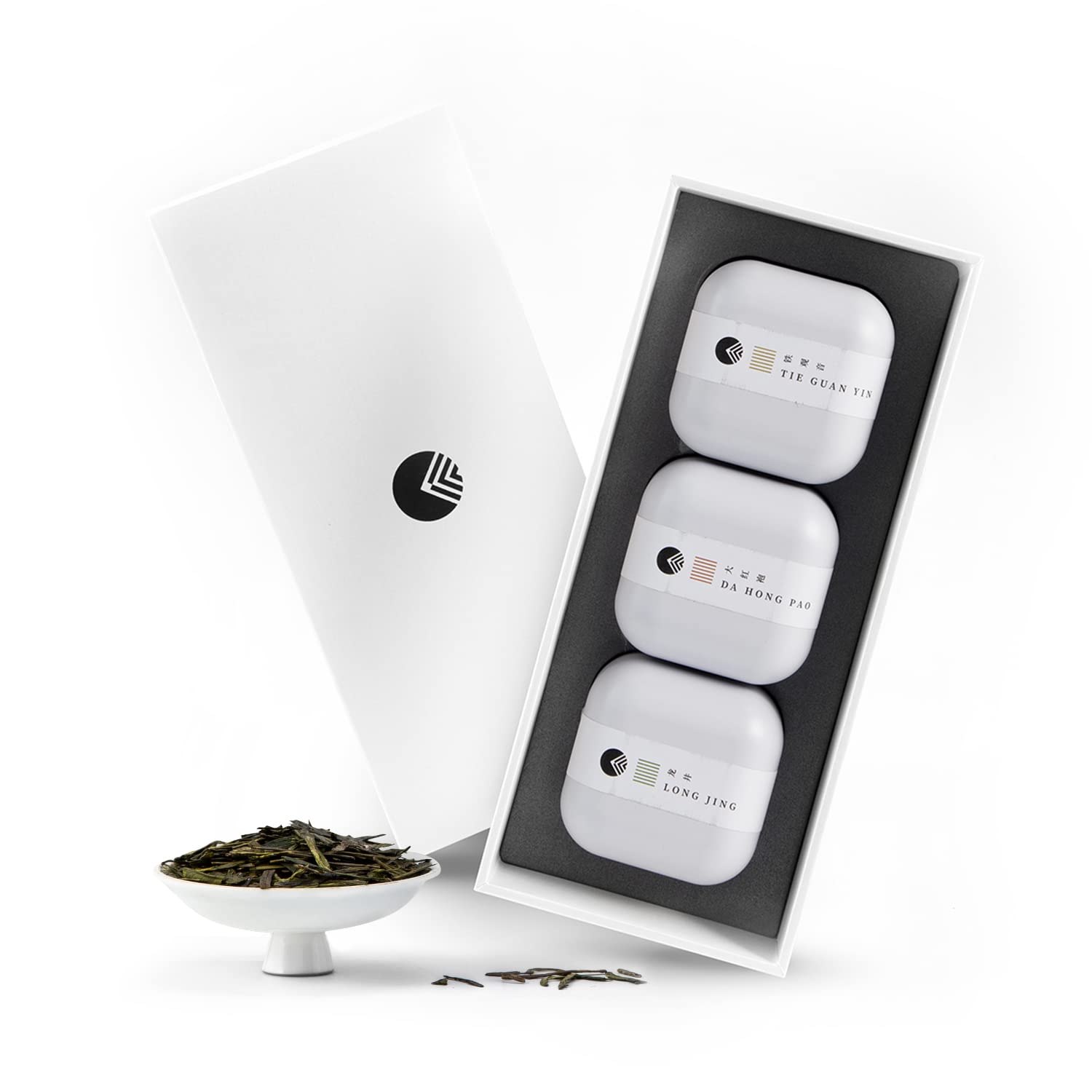 Bottom Line: A sampler set of quality loose leaf Chinese teas to introduce you to several flavors.
Pros: Set includes both green and oolong tea leaves. Enjoy the taste of Tie Guan Yin, Longjing and Da Hong Pao Teas. These teas are hand-picked in the areas of China where they grow naturally. These teas have a pleasant aroma of orchids.
Cons: Some tea mavens question the authenticity of these teas.
Best Bang for the Buck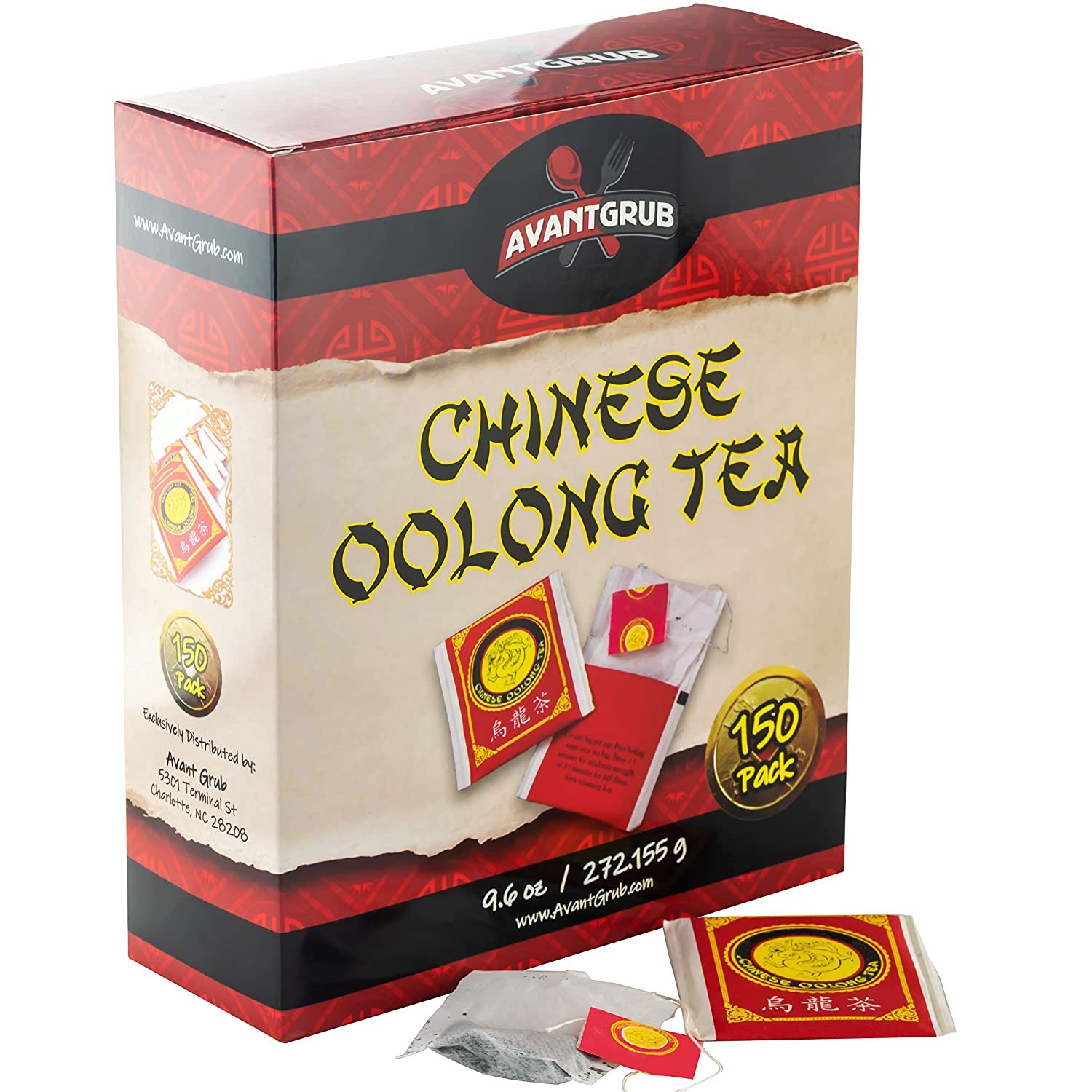 Avant Grub Authentic Restaurant-Grade Oolong Tea Bags
Bottom Line: Try this oolong tea hot or cold for improved health and increased energy.
Pros: This Chinese tea is harvested and dried in the traditional way using sunlight and a quick heating in a wok. The package contains 150 sachets of oolong tea. The tea delivers a jolt of caffeine along with restorative antioxidants.
Cons: A few oolong fans say it lacks flavor. Too much caffeine for some.
Check Price: Avant Grub Authentic Restaurant-Grade Oolong Tea Bags
Also Great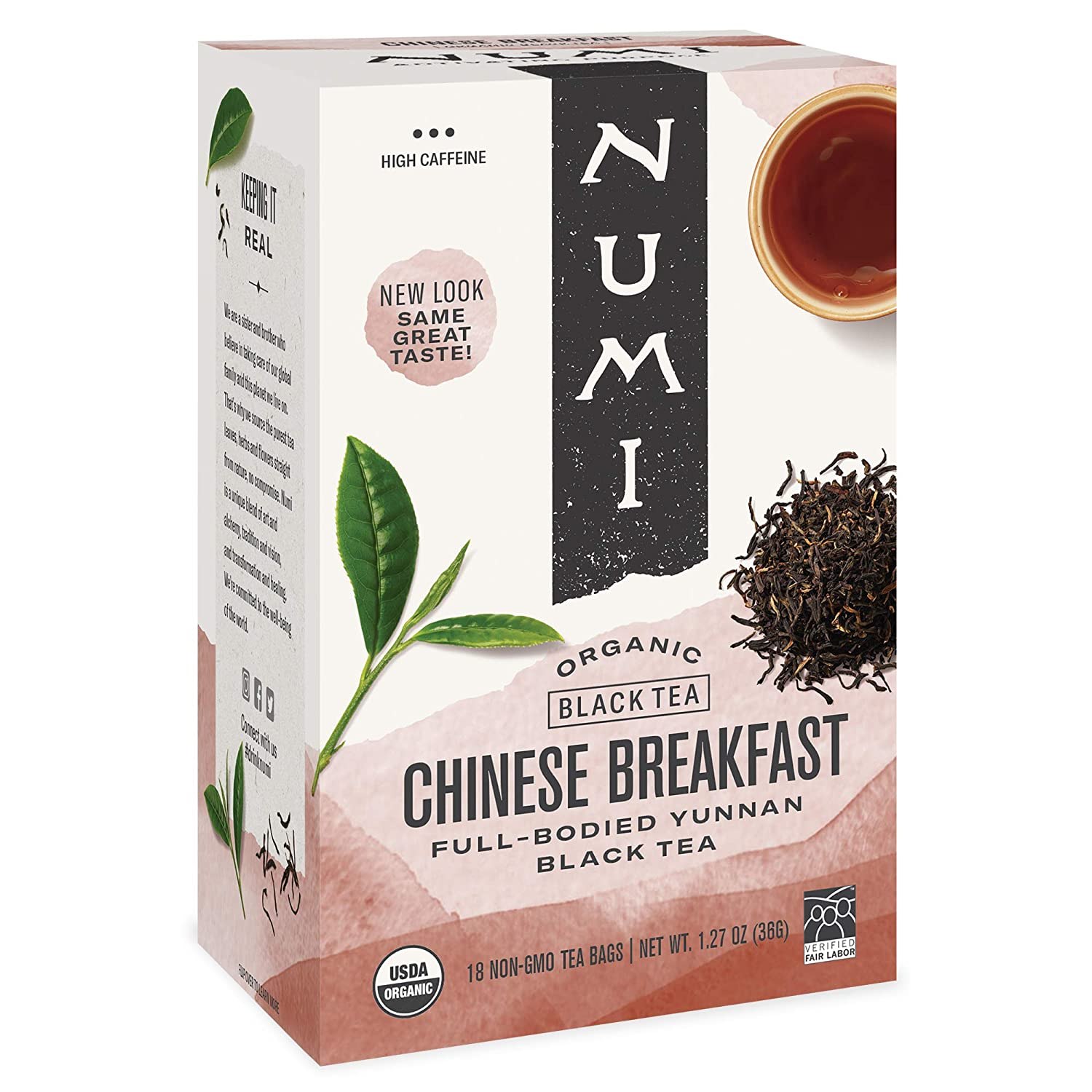 Numi Organic Tea Chinese Breakfast
Bottom Line: A single-origin black tea straight from the fields of Yunnan Province in southern China.
Pros: This organic tea is GMO-free, and it has a natural floral and malty flavor. It combines black tea and orange pekoe. Only the golden tips of the leaves are harvested for this tea. Each cup contains a high dose of caffeine.
Cons: A few long-time fans say it's gotten less flavorful. More bitter than some expected.
Also Great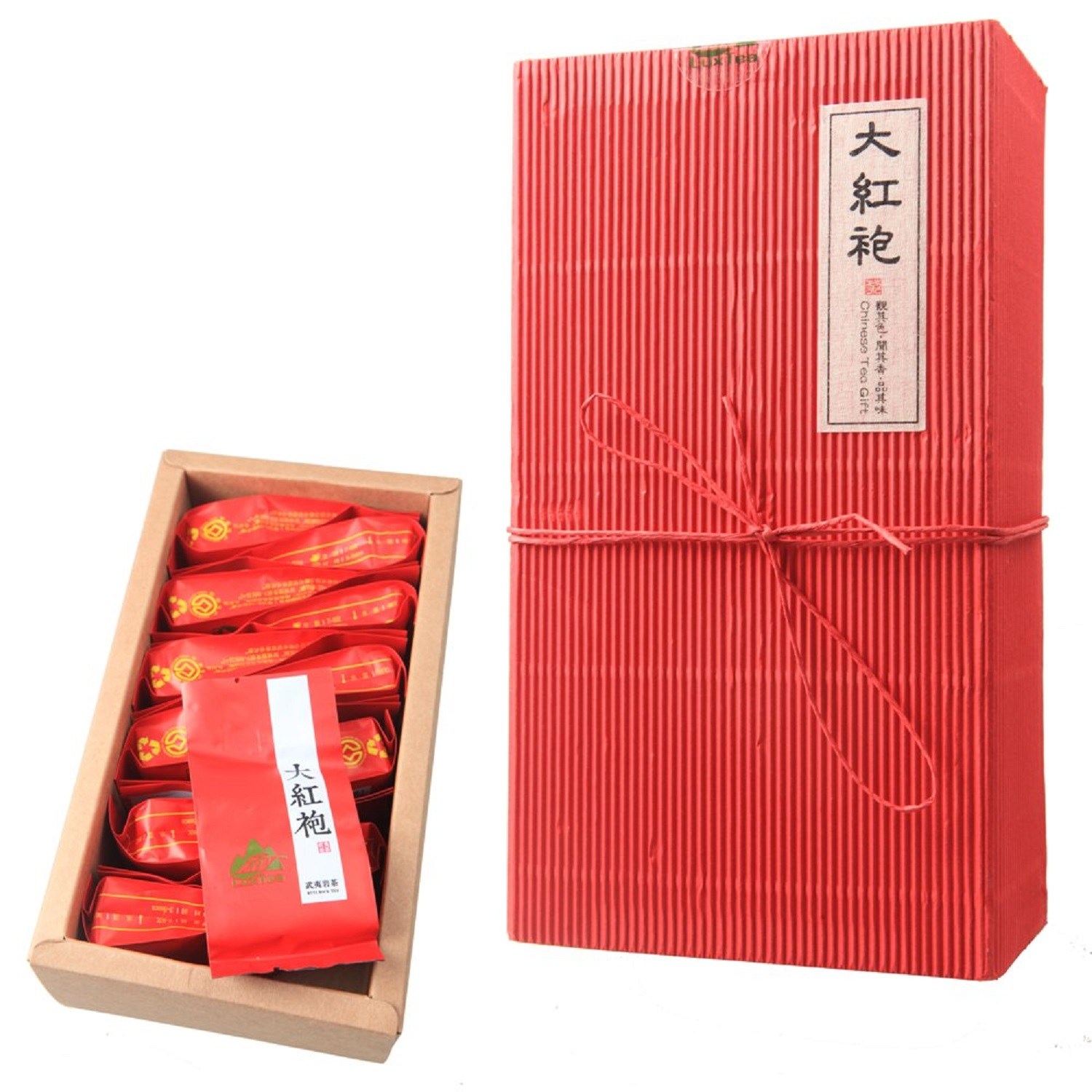 Luxtea Wuyi Da Hong Pao Top 10 Famous Tea
Bottom Line: Treat yourself like a potentate with this AA-grade tea known as the king of teas.
Pros: This Wuyi Da Hong Pao tea is a black oolong tea found only in Fujian Province. Enjoy 100 grams of leaf tea divided into 3.5-ounce individual packets. Combine this tea with honey or milk to soften and sweeten the taste.
Cons: A few say it tastes like a typical green tea and has a weak fragrance.
Also Great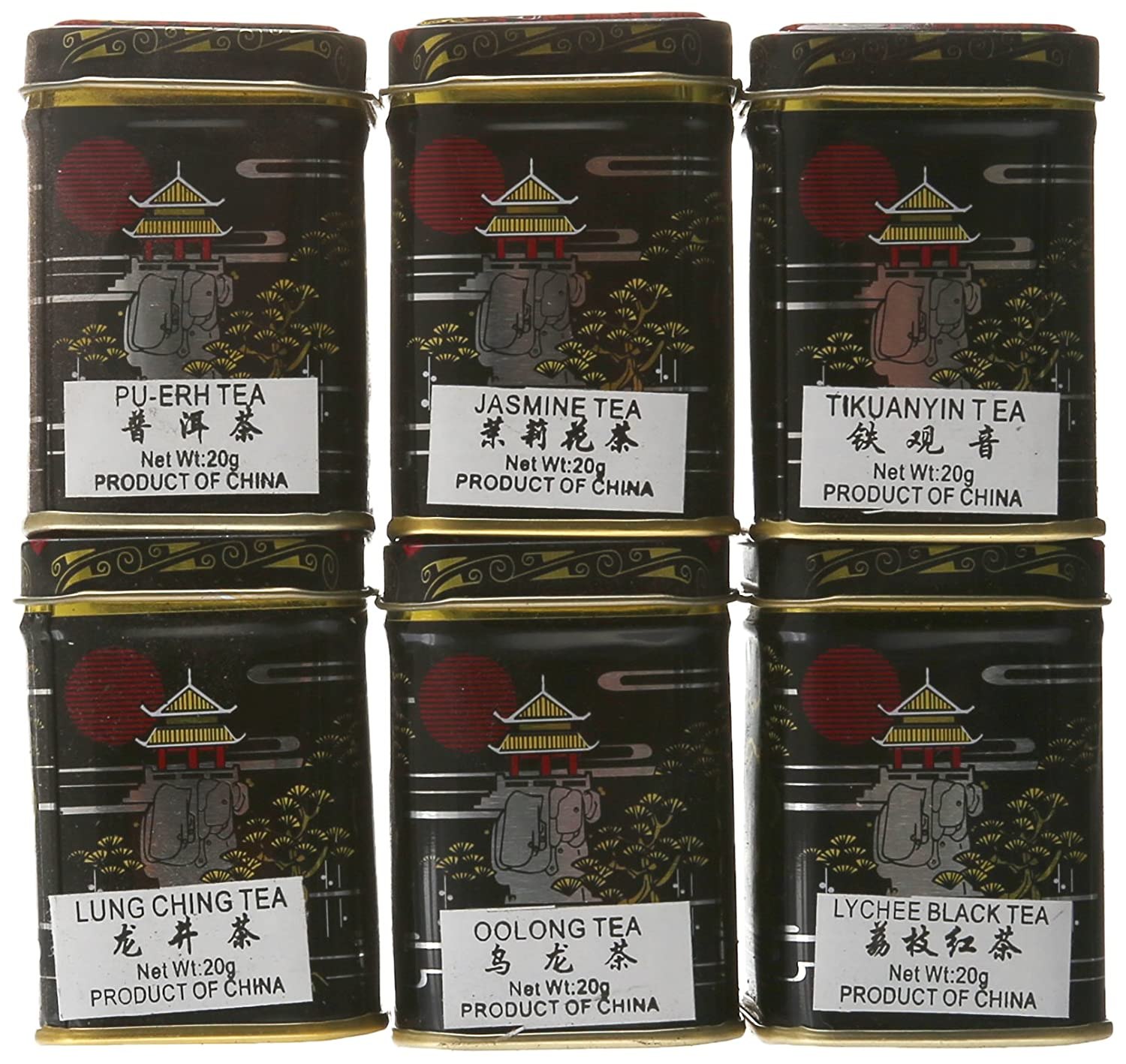 Chinese Tea China Tea Loose Leaf Sampler Gift Pack
Bottom Line: Take your taste buds on a Chinese tour with this well-rounded tea sampler.
Pros: Set contains six tins, each with 20 grams of loose leaf tea. Try the classic oolong and jasmine along with more exotic pu-erh and Lung Ching. Harvested in Yunnan Province, the teas are packed in cute tins decorated with swans and temples.
Cons: Some say teas could be fresher. Tins can get dented during shipping.
Check Price: Chinese Tea China Tea Loose Leaf Sampler Gift Pack
Buying guide for

BEST CHINESE TEAS

Whether you're a longtime tea aficionado or new to fine teas, the world of Chinese tea can be a delightful place to explore. From delicate green and white teas to robust black teas and complex oolongs, there's a Chinese tea to suit every palate. High-quality Chinese tea will be not only a pleasure to drink but also a sensory experience, filling your space with pleasing aromas and providing a calm, meditative moment in a hectic day.

Chinese teas are as varied as the regions they hail from, with flavors influenced by factors such as altitude, climate and processing methods. The best teas will be free of artificial flavors and additives, instead relying on the natural richness of the leaves themselves. A great tea is one you enjoy drinking, of course, but also one that aligns with your values, perhaps by supporting small farmers or adhering to organic farming practices.

The Tea Canyon Chinese Tea Set is our top pick for its combination of quality and value. This collection includes a range of classic Chinese teas, all beautifully packaged and ready for brewing. For those on a budget, the Avant Grub Authentic Restaurant-Grade Oolong Tea Bags offers a taste of premium oolong tea at an affordable price.

TOP PICKS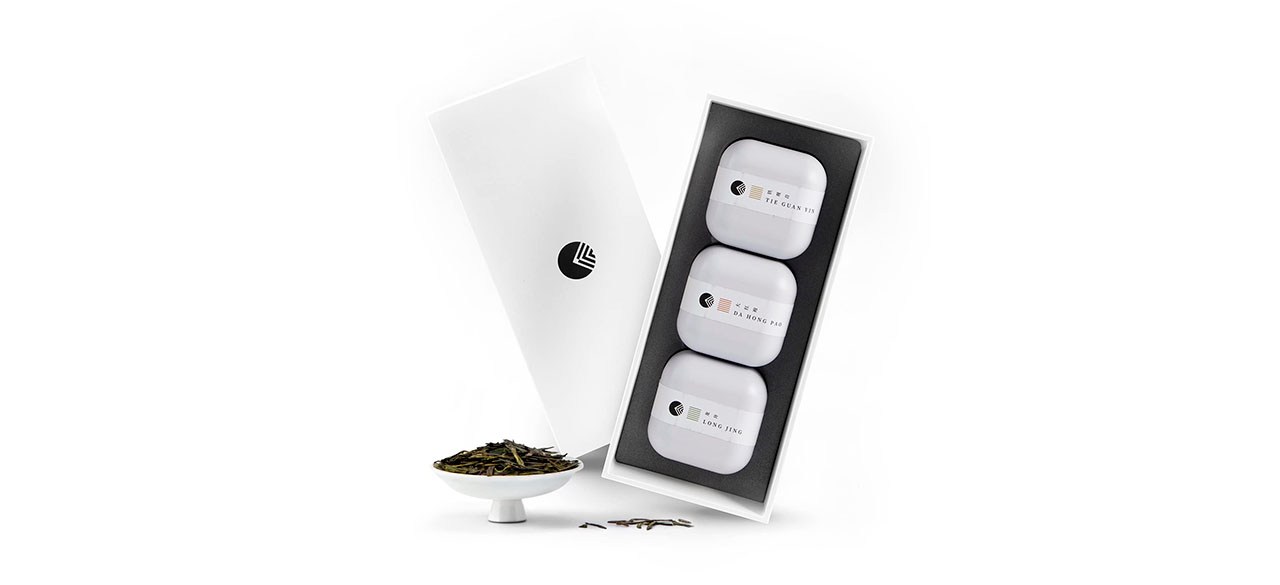 Perfect for those new to Chinese tea or looking for variety, this Chinese Tea Set provides a collection of classic teas from different regions of China. This set includes black, green, oolong, white and pu-erh teas, offering a range of flavors and experiences. Each tea is packaged in a decorative tin, making this a lovely gift for tea lovers.
The teas in this set are full-leaf, meaning you'll get the full flavor and aroma of each tea type. Brewing instructions are included to help you get the best out of each tea. Overall, this set provides excellent value for money, giving you the chance to explore a range of Chinese teas without a significant upfront investment.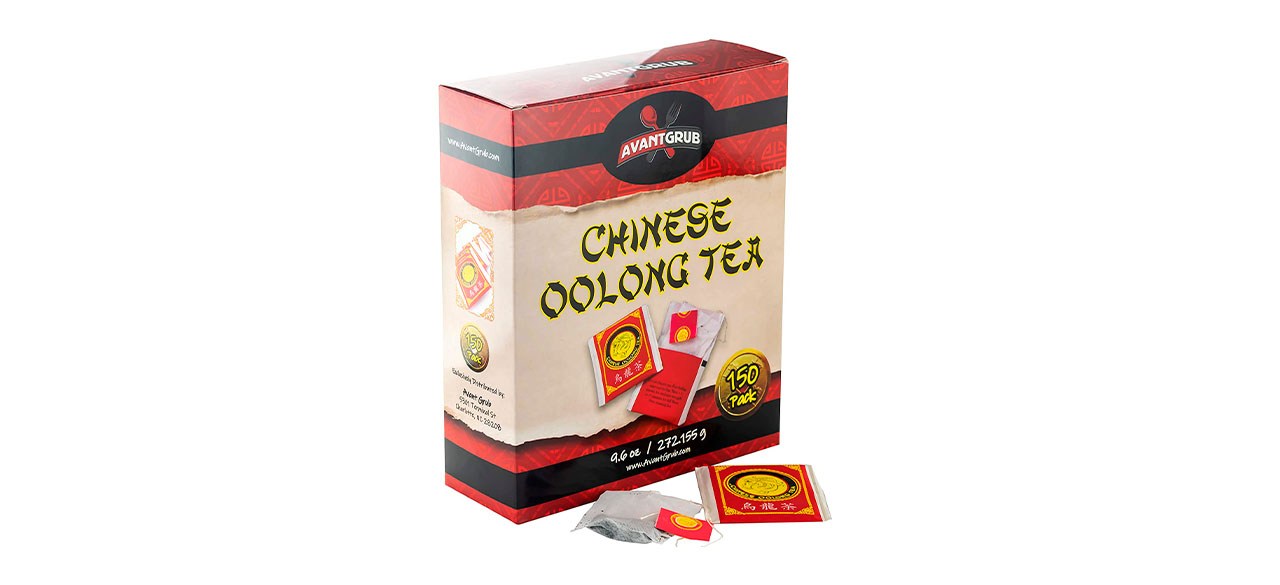 Avant Grub – Authentic Restaurant-Grade Oolong Tea Bags
For the oolong tea lover or those curious about this versatile type of tea, the Avant Grub restaurant-grade oolong tea bags are a fantastic choice. Oolong tea, which falls between green and black tea in terms of oxidation, is known for its complex flavor profile, which can include notes of fruit, cream and even flowers.
Each bag is individually wrapped for freshness and convenience, making this a great choice for busy tea lovers. The tea bags are also biodegradable, adding an eco-friendly aspect to this product. Despite its affordable price, the quality of the tea is outstanding, providing a delicious and authentic oolong experience.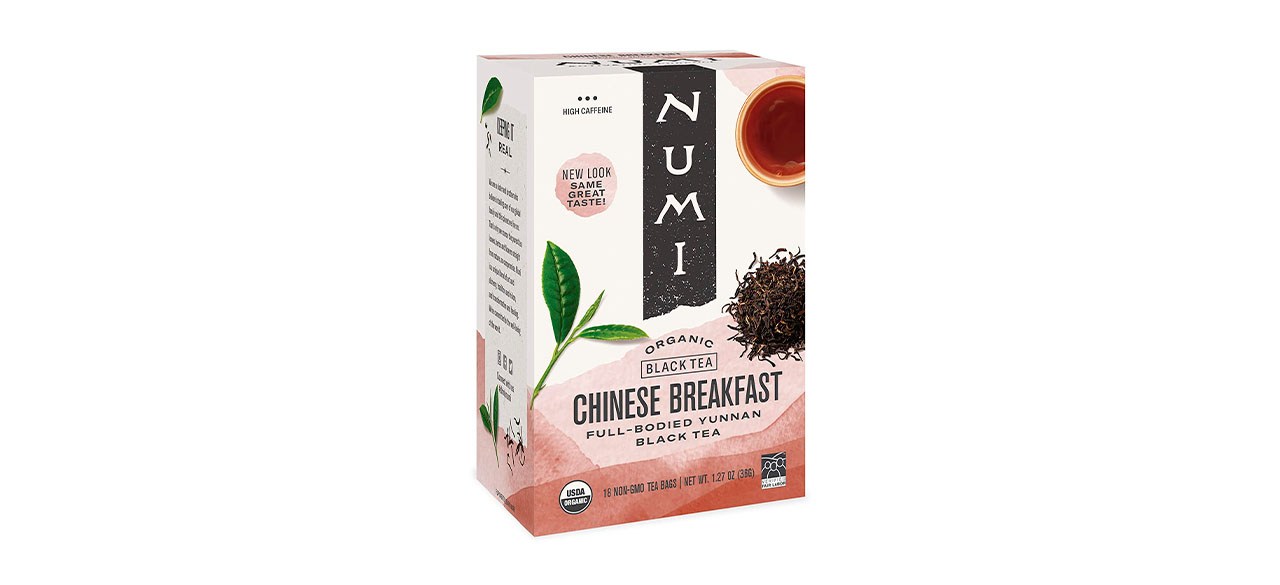 Numi – Organic Tea Chinese Breakfast
A robust black tea perfect for morning or afternoon, the Numi Organic Tea Chinese Breakfast offers full-bodied flavor and a rich aroma. This tea is both USDA Organic and Fair Trade certified, making it a great choice for those who value sustainable and ethical practices.
The tea is made from full-leaf quality tea, ensuring a superior taste and aroma. The packaging is also eco-friendly, using recycled materials and biodegradable tea bags. For those seeking a robust and flavorful black tea that can stand up to milk and sugar if desired, this is an excellent option.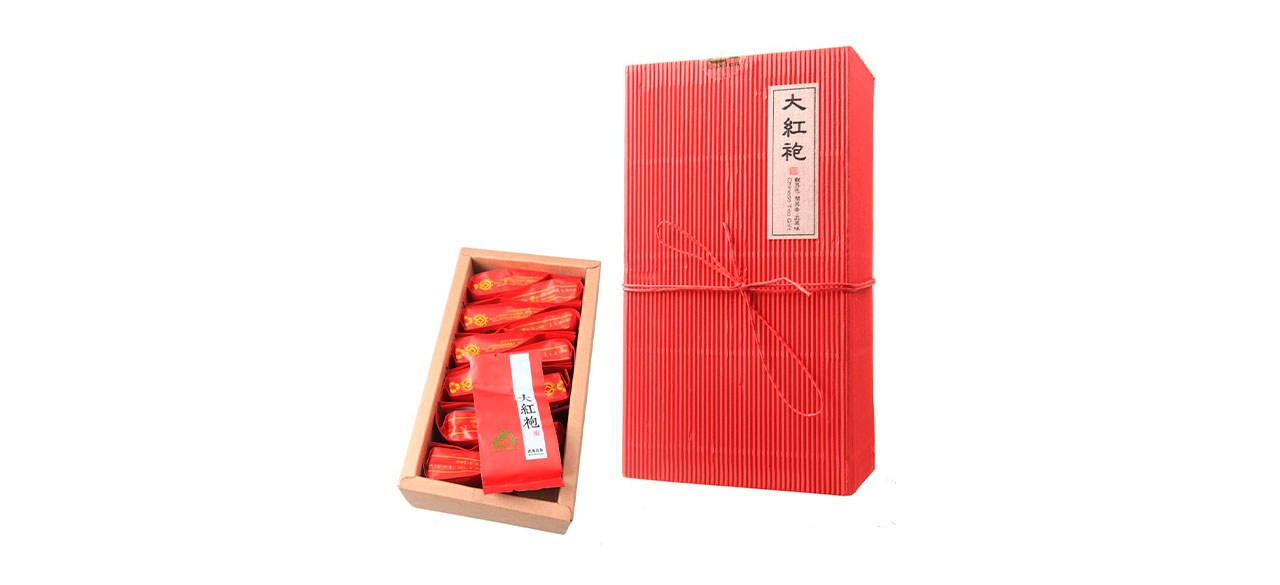 Luxtea –Wuyi Da Hong Pao Chinese Top 10 Famous Teas
One of the Luxtea Chinese Top 10 Famous Teas, Wuyi Da Hong Pao is a black oolong that's ideal for those who like milk or sugar in their tea. Luxtea's curated collection of high-quality teas represents the best of Chinese tea culture. Each tea in the group is carefully chosen for its quality and flavor, providing a fantastic opportunity to taste a range of renowned Chinese teas.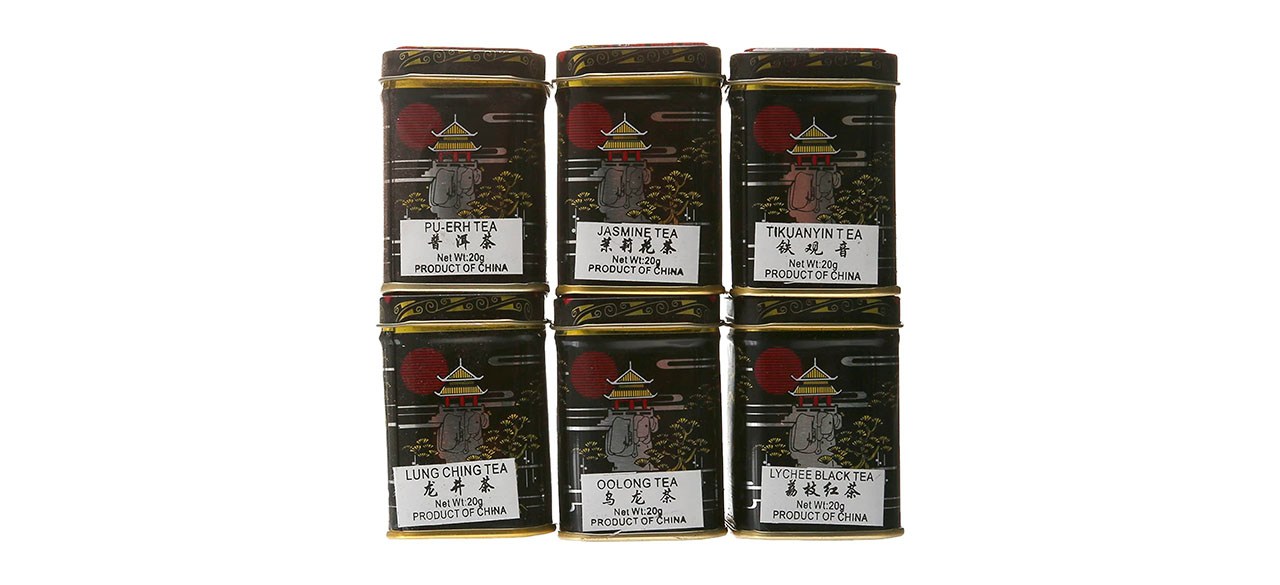 Chinese Tea – China Tea Loose Leaf Sampler Gift Pack
For those who enjoy the ritual of brewing loose-leaf tea, this sampler gift pack is a fantastic option. This set includes a range of classic Chinese teas, including green, black, white, oolong and yellow, each in a generous portion suitable for multiple brewings.
The teas in this set are high-quality and full-leaf, promising rich flavor and aroma. The set is beautifully packaged and includes detailed brewing instructions, making it a thoughtful gift or a great way to expand your own tea collection.
Whether you're exploring Chinese tea for the first time or looking to expand your options, these teas provide a taste of the rich variety and quality that Chinese tea has to offer. From individual bags to comprehensive sets, there's something for every tea lover to enjoy.
WHAT TO KNOW BEFORE YOU BUY CHINESE TEAS
Types of teas
Chinese teas are incredibly diverse, and they encompass a wide range of flavors, aromas and health benefits. Some of the most common types are white, green, oolong, black and pu-erh. Other categories include yellow tea and dark tea. Depending on your preference and health needs, you might favor one type over another.
White tea: This is the least processed type of tea, and it's usually made from young or minimally oxidized leaves. White tea is light in color and flavor, and it's high in antioxidants.
Green tea: Green tea is slightly more oxidized than white tea. It's renowned for its numerous health benefits, which include aiding in weight loss, improving brain function and lowering the risk of heart disease. Chinese green tea varies widely in taste, but it's usually more robust and complex than its Japanese counterparts.
Oolong tea: This tea is partially oxidized, placing it between green and black tea in terms of flavor and color. Oolong tea has a wide range of flavors and aromas, from light and floral to dark and roasted, depending on the degree of oxidation and roasting.
Black tea: Known as "red tea" in China, black tea is fully oxidized, giving it a dark color and strong flavor. It's high in caffeine and is known for its potential benefits to heart health.
Pu-erh tea: This is a type of fermented and aged dark tea. Pu-erh teas are complex in flavor, often described as earthy and rich. They're known for their potential benefits to digestive health.
Choosing the Right Tea for You
Your choice of Chinese tea will depend on several factors. Here are a few things to consider:
Flavor profile: Chinese teas range from light and floral to dark and earthy. If you're new to tea, you might want to start with something milder, like white or green tea. If you prefer a stronger flavor, black or pu-erh tea might be more suitable.
Health benefits: Each type of tea has its unique health benefits. Green tea is known for its high antioxidant content, black tea may help with heart health, and pu-erh tea is celebrated for its potential benefits to digestion. Do some research and choose a tea that aligns with your health goals.
Caffeine content: The amount of caffeine in tea varies, with white and green teas usually having less caffeine than black and oolong teas. If you're sensitive to caffeine or looking for a beverage to drink in the evening, you might want to opt for a tea with lower caffeine content.
Preparing and Drinking the Tea
The method of preparation can significantly affect the taste of your tea. Chinese tea is traditionally prepared in a small teapot or a gaiwan, and the leaves are often rinsed with hot water before the actual brewing. The temperature of the water, the amount of tea and the steeping time can all influence the flavor of the tea.
If you're new to tea, you might want to invest in a tea set and some basic tools, such as a tea thermometer and a tea timer. You might also consider buying a tea book or taking a tea-tasting class to learn more about the art of tea brewing.
WHAT TO LOOK FOR WHEN BUYING CHINESE TEAS
Quality
The quality of the tea leaves is paramount when it comes to Chinese teas. Look for full-leaf teas, which usually provide a richer flavor and aroma than broken leaves or tea bags.
Organic certification
Organic teas are grown without the use of synthetic fertilizers and pesticides. If this is important to you, look for teas with an organic certification.
Origin
The region where the tea is grown can greatly influence its taste. Teas from different regions of China have unique characteristics, and tea connoisseurs often have their favorite regions.
Price
As with any product, you often get what you pay for with tea. While there are some great budget-friendly teas out there, higher-quality teas tend to be more expensive. Don't be afraid to spend a little more on a tea that you really enjoy.
Packaging
Tea should be stored in an airtight container to maintain its freshness. Look for teas that come in resealable bags or tins. Some higher-end teas also come in beautiful packaging, making them excellent gifts.
Tasting notes
Most tea sellers provide tasting notes for their teas. These can give you an idea of the tea's flavor, aroma and mouthfeel. Keep in mind that everyone's palate is different, and what tastes floral and sweet to one person might taste grassy and bitter to another.
Copyright 2023 BestReviews, a Nexstar company. All rights reserved.