This is an archived article and the information in the article may be outdated. Please look at the time stamp on the story to see when it was last updated.
If you're a wine lover, it makes sense to own a decanter, to help your wine breathe and for presentation when serving it at dinner. Decanting can be used for both young and old wine. Young wines benefit from decanting opening up their flavors, while old wine should be decanted to separate the sediment from the liquid.
Not all decanters are created equal, so it's important to know more about decanters and what to look for when buying one.
In this article: Ullo Wine Purifier with Hand-Blown Decanter, Vintorio Citadel Wine Decanter and Riedel Cabernet Decanter.
What are the benefits of decanting wine?
Is decanting wine worth the effort? These are some of the reasons to decant your wine.
Improved taste and aroma: Wine decanters can help improve the taste and aroma of wine by letting it breathe. The process of pouring the wine out of the bottle and into the decanter exposes it to more oxygen, which helps soften tannins and release the wine's full bouquet.
Smoother drinking: Decanting can make wine more flavorful, smoother and more enjoyable to drink.
Separates sediment: Decanting helps separate sediment that may be present in the wine. While sediment isn't a huge problem in most wines of a relatively recent vintage, you can also use a filter to remove sediment when you decant, if needed.
Looks more aesthetically pleasing: Using a decanter can enhance the presentation of the wine, making it a more attractive addition to a dinner table.
What to look for in a wine decanter
These are some of the features to consider when buying a wine decanter:
Capacity: Your decanter should be able to hold an entire bottle of wine, with a little room to spare for swirling and aeration.
Material: Crystal or lead-free glass are good options for a decanter, as they're durable and clear, letting you see the wine's color and clarity.
Ease of cleaning: Look for a decanter that's dishwasher-safe or easy to hand-wash.
Appearance: A wine decanter can also be a decorative item, so consider its style and design, and choose one you like the look of.
Decanter shape and wine type
While you can use any decanter for any wine, some shapes do a better job with particular styles of wine:
Young red wines: A wide-mouthed decanter is best for these, letting the wine breathe and opening up its flavors. A decanter with a wide base and a sloping neck is a good choice.
Old red wines: You should choose a narrow-mouthed decanter with a long neck for these. It releases the wine's aromas in a slower, more controlled manner.
White wines: A narrow-mouthed decanter is also good for white wines, letting the wine gradually aerate and release its aromas..
Fortified wines: Fortified wines, such as sherry and port, are traditionally served in decanters with wide bases and narrow necks.
Best wine decanters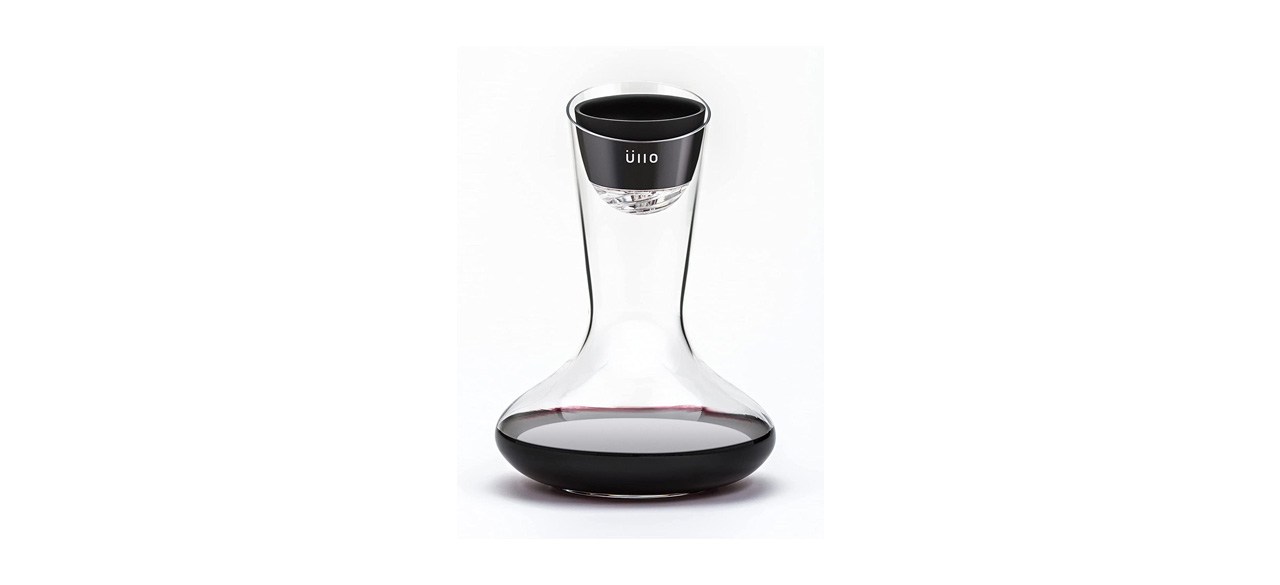 Ullo Wine Purifier with Hand-Blown Decanter
This hand-blown crystal decanter comes with a wine purifier that filters out sulfites. Some wine drinkers believe the sulfites in wine give them headaches and intensify hangovers, while others can taste a bitterness from these added preservatives. If these are concerns of yours, it's the perfect decanter.
Sold by Amazon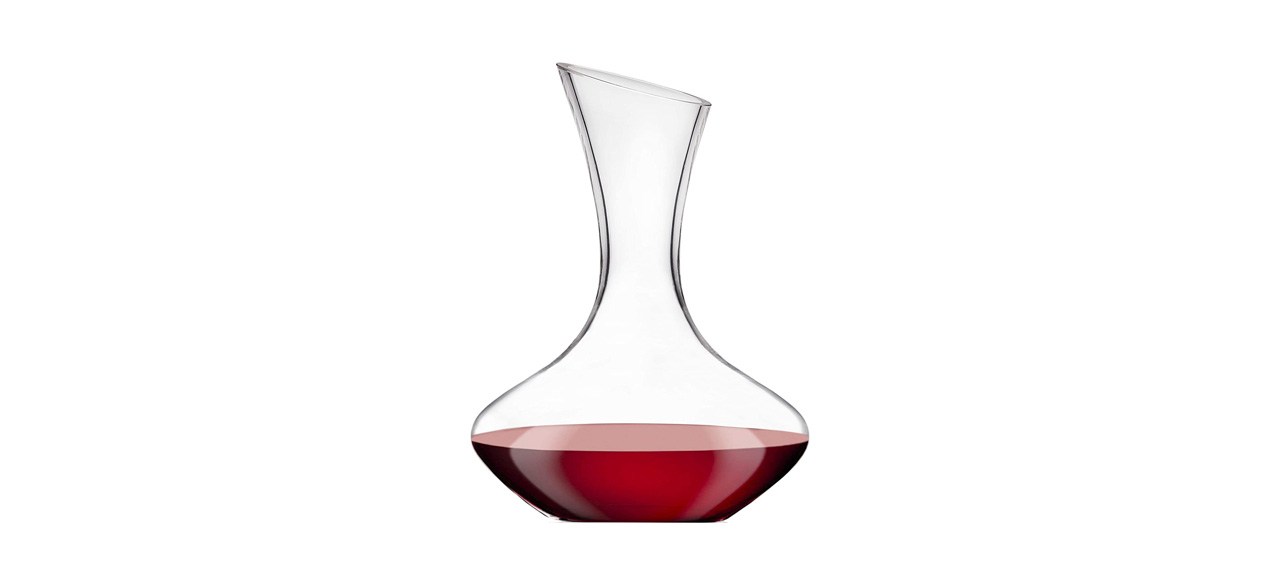 With its wide mouth and wide base, this affordable hand-blown wine decanter is ideal for young red wines. It can hold a full standard bottle of wine, but without much room to breathe, so it's best to decant it in smaller quantities.
Sold by Amazon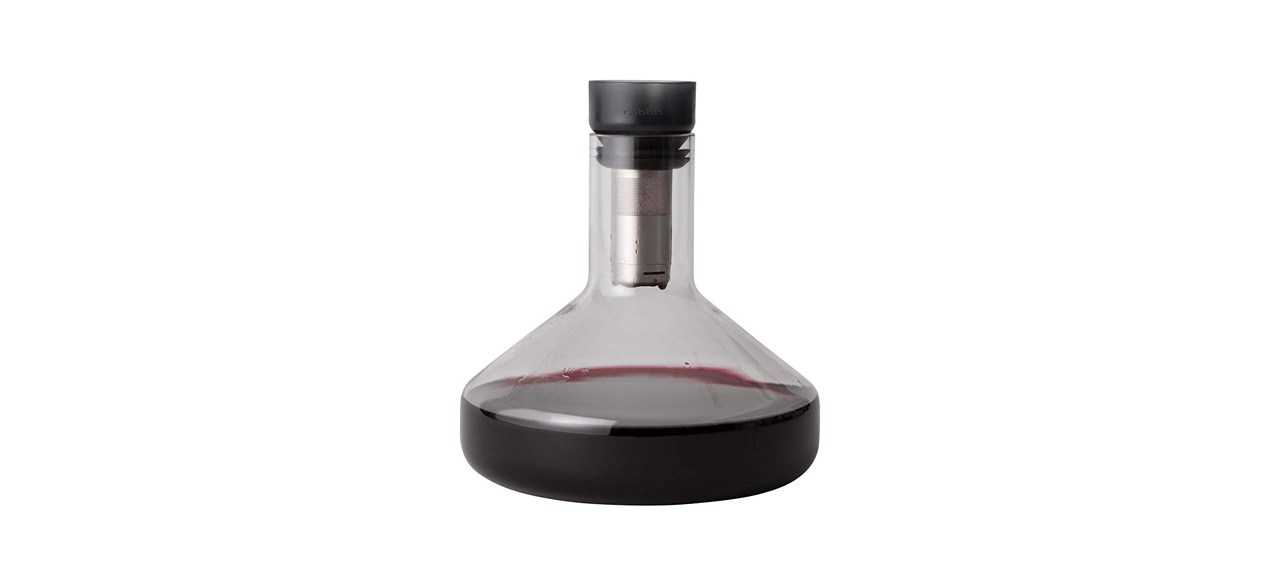 Not only is this decanter designed to aerate, improving the flavor, it also has a filtration system to remove sediment, which is ideal for old wines or natural, minimally fined wines. It holds a standard 750-milliliter bottle of wine.
Sold by Amazon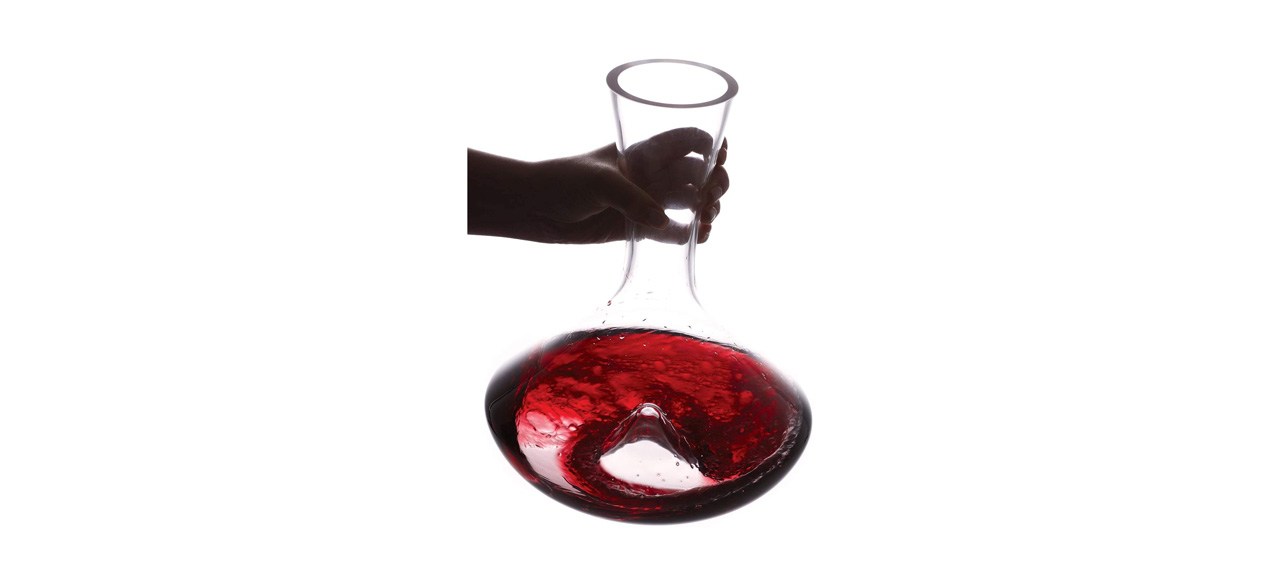 Vintorio Citadel Wine Decanter
This decanter's large capacity makes it perfect for holding a full bottle of wine while allowing it plenty of room to breathe. The indented punt in the base offers better aeration and an easier pour. It comes with a stopper, perfect for keeping out debris.
Sold by Amazon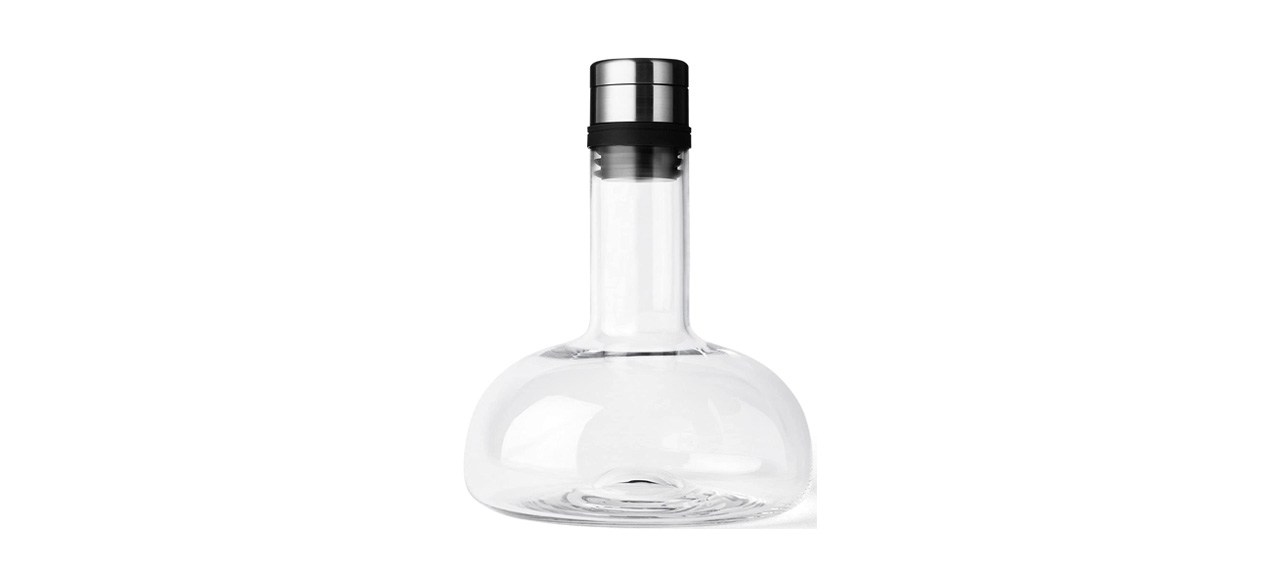 If you worry about spilling wine as you pour it, this decanter offers the perfect solution. You fit its neck upside down over the neck of your wine bottle, flip the whole thing upside down to decant, then remove the wine bottle when it's done.
Sold by Amazon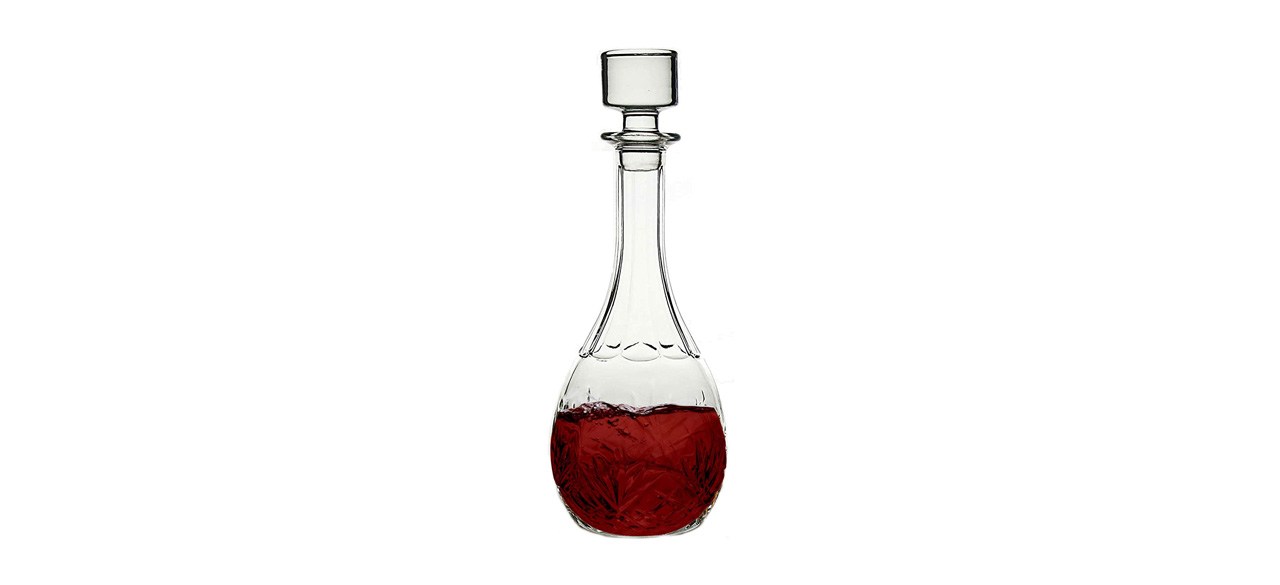 This cut crystal wine decanter's slim neck makes it a good choice for young reds, which benefit from releasing their aromas slowly. It has a classic design and comes with a handy glass stopper.
Sold by Amazon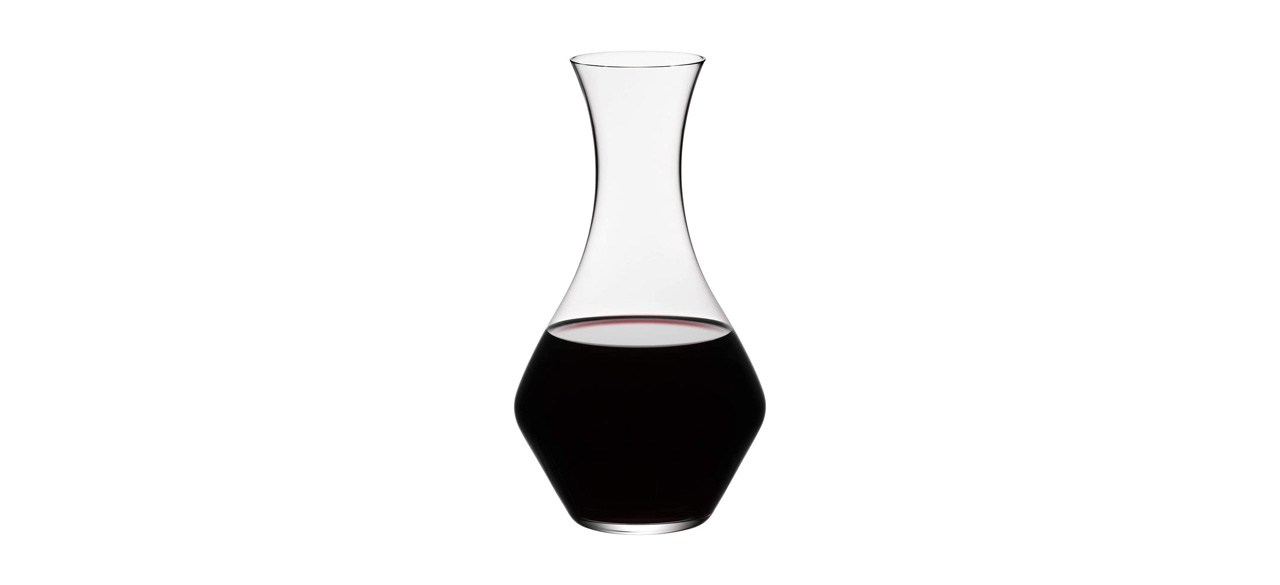 This decanter is specifically designed for full-bodied reds, such as the popular cabernet sauvignon. It has a simple yet elegant design and impressive clarity that lets you clearly see the nuances of color in your wine. It's dishwasher-safe, so cleanup is easy.
Sold by Amazon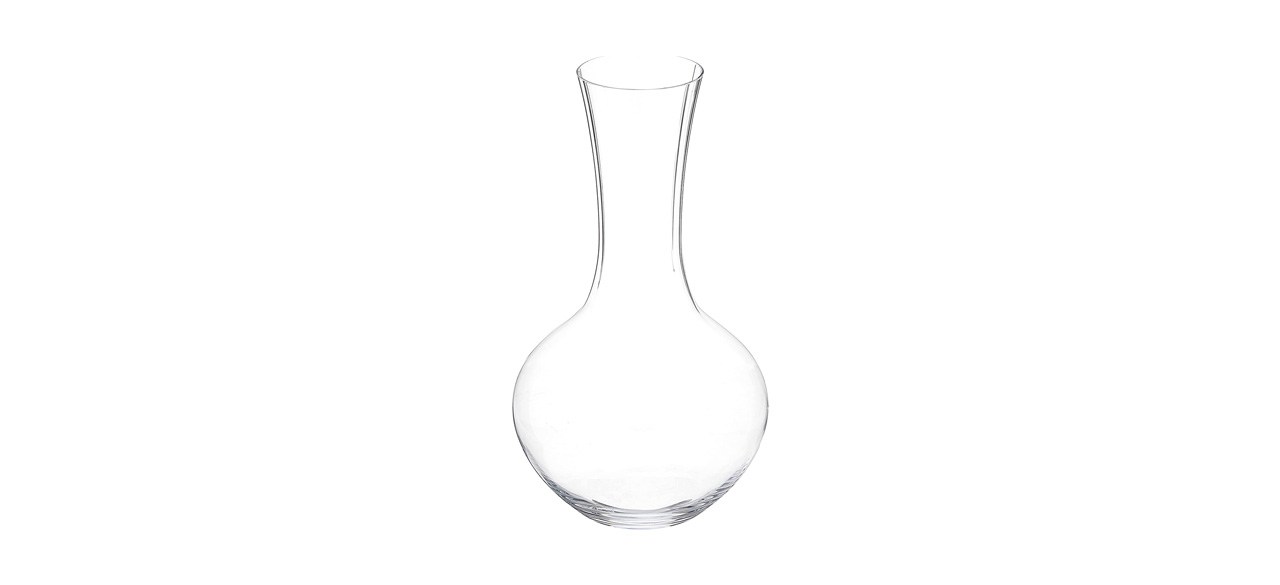 With a more rounded shape than Riedel's cabernet decanter, this is a great all-rounder that can improve any wine, red or white, young or old. It's large enough to hold a full bottle of wine and you can also buy matching glasses, with a range of options suited to different wine varieties.
Sold by Amazon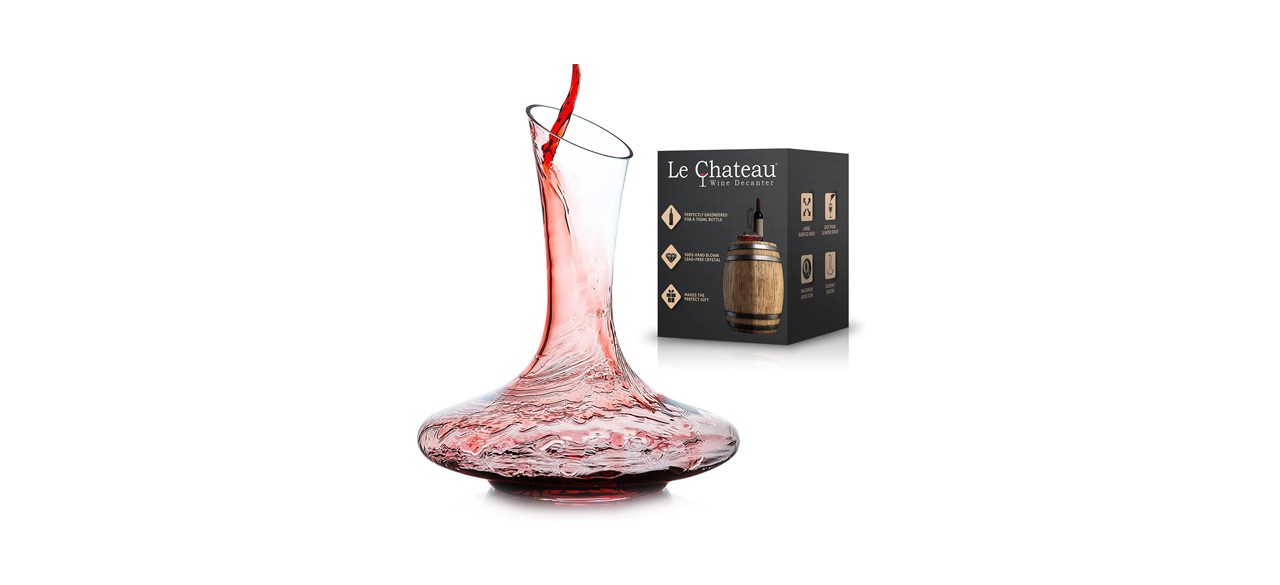 The wide-mouth, wide-base design makes this decanter a great choice for young red wines. The slanted spout makes it easier to pour from. The wide base gives decanted wine a large surface area for maximum aeration.
Sold by Amazon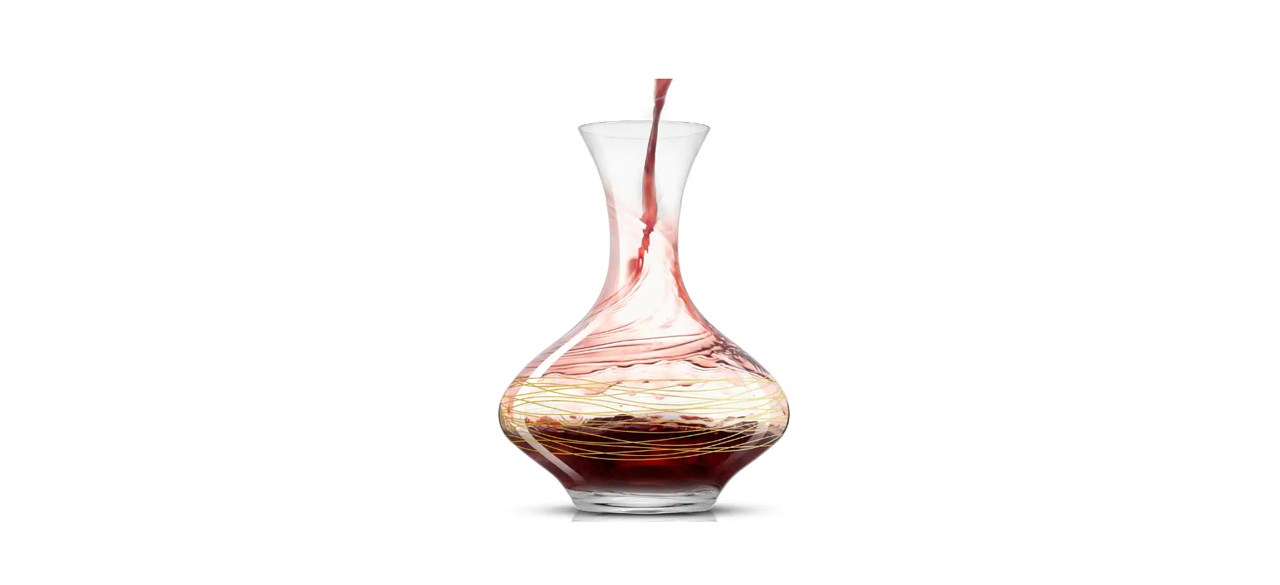 JoyJolt Golden Royale Crystal Wine Decanter
This large 50-ounce decanter is large enough to hold a standard bottle with ample breathing room. It's made from quality European crystal, lead-free, beautifully clear and conveniently dishwasher-safe.
Sold by Home Depot
Want to shop the best products at the best prices? Check out Daily Deals from BestReviews.
Sign up here to receive the BestReviews weekly newsletter for useful advice on new products and noteworthy deals.
Lauren Corona writes for BestReviews. BestReviews has helped millions of consumers simplify their purchasing decisions, saving them time and money.
BestReviews spends thousands of hours researching, analyzing and testing products to recommend the best picks for most consumers.
Copyright 2023 BestReviews, a Nexstar company. All rights reserved.